Exciting Classes Every Saturday!
See the Events page for details and to register!
Home
Welcome to Spellbound New Age & Gift Shop! We are a unique new shop in the District of Rock Island, offering a wide variety of gifts and New Age items, including jewelry, crystals, books, incense and herbs, dragons, candles, fairies, figurines, wind chimes, and so much more.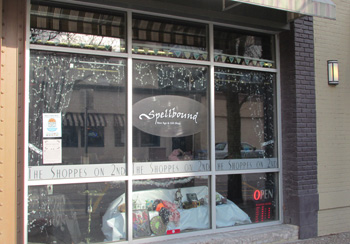 Don't be afraid to stop in! The phrase "New Age" has different meanings to different people, and some can be a little "out there." But at its heart, New Age simply means "a broad movement characterized by alternative approaches to traditional Western culture, with an interest in spirituality, mysticism, holism, and environmentalism." In other words, things as "far out" as tea, yoga, meditation, or recycling could be considered "New Age!" Don't let the phrase fool you!
Spellbound is also for the many people who simply wish they could have the feeling of Halloween at any time.  We hope to fulfill your needs all year round, offering many seasonal items, but with a magical touch!  We also offer personal dream analysis, with both appointments and walk-ins welcome. Please see the "About Us" section for further services and detailed plans for the future of Spellbound. Fun things will be happening!
Spellbound is exactly as "weird" as YOU need it to be! We have items for those practicing (or simply exploring) Buddhism, Hinduism, Christianity, Taoism, or Wiccan, as well as Agnostics, Pagans, and Atheists. However, we also cater to those who are just looking for fun and enchantment! We offer beautiful artwork, jewelry, fairies, dragons, unicorns, and even a Sorting Hat or two!
Whether you are looking for a unique gift for a special person, want to enhance your own collectibles, have a troubling or interesting dream you want analyzed, or are simply looking to have a good time with a group of friends, Spellbound has what you are looking for!
Hours
We are open every Tuesday through Saturday, from 10 am to 5:30 pm
Find Us
217 17th Street
Rock Island, IL 61201
Google Map