Services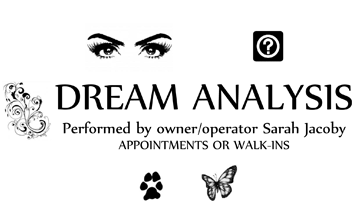 Spellbound will feature many different services as space and opportunity provide. We are starting immediately with dream analysis, performed by the owner/operator, Sarah Jacoby. Sarah has had a unique ability to interpret dreams for as long as she can remember. She compares her gift of dream analysis with that of an interpreter of another language – in other words, some people hear Spanish spoken and automatically "hear" the English meaning. Sarah listens to people's dreams and automatically "hears" the symbology behind them. While there are many books and "apps" purporting to decipher dreams, Sarah feels that dreams are far too personal to be interpreted by a book or app. For example, one may dream of a dog. One person may have had a beloved dog growing up which represents comfort and loyalty, while another may have been viciously attacked by a dog, leading to dogs representing danger and betrayal. Water may represent calm, peace, and serenity to a beach-lover, while representing danger and "being in over one's head" to someone who never learned to swim. Through a series of questions regarding the specific details of the dream (yes, the "weird" details are often the most important!) and various questions about the feelings and personal experiences of the dreamer, Sarah is able to piece together a very accurate overview of exactly what it is the dream is trying to tell the dreamer. As Sarah sees it, YOU are already telling yourself whatever it is you need to know, she just enables you to understand it better!
In addition to dream analysis, Spellbound plans to offer many other services in the future, as opportunity and space provide. Spellbound plans to host such guests as psychic mediums, tarot card readers, numerologists, past-life regression hypnotists, and henna tattoo artists.
Testimonials
"The owner, Sarah, does amazing dream interpretations. Very affordable too!"
– Richard N.

"Ms Sarah is amazing at the dream interpretation  - on point for real."
– Jessie B.

Hours
We are open every Tuesday through Saturday,
from 10 am to 5:30 pm
Find Us
217 17th Street
Rock Island, IL 61201
Google Map